Wednesday, January 21st, 2009
Deprecated
: preg_replace(): The /e modifier is deprecated, use preg_replace_callback instead in
/home/drchris/drchris.teachtown.com/wp-includes/functions-formatting.php
on line
76
Strict Standards
: call_user_func_array() expects parameter 1 to be a valid callback, non-static method UltimateTagWarriorActions::ultimate_the_content_filter() should not be called statically in
/home/drchris/drchris.teachtown.com/wp-includes/functions.php
on line
1203
Strict Standards
: Non-static method UltimateTagWarriorActions::regExEscape() should not be called statically in
/home/drchris/drchris.teachtown.com/wp-content/plugins/UltimateTagWarrior/ultimate-tag-warrior-actions.php
on line
638
Strict Standards
: Non-static method UltimateTagWarriorActions::regExEscape() should not be called statically in
/home/drchris/drchris.teachtown.com/wp-content/plugins/UltimateTagWarrior/ultimate-tag-warrior-actions.php
on line
638
Strict Standards
: Non-static method UltimateTagWarriorActions::regExEscape() should not be called statically in
/home/drchris/drchris.teachtown.com/wp-content/plugins/UltimateTagWarrior/ultimate-tag-warrior-actions.php
on line
639
Strict Standards
: Non-static method UltimateTagWarriorActions::regExEscape() should not be called statically in
/home/drchris/drchris.teachtown.com/wp-content/plugins/UltimateTagWarrior/ultimate-tag-warrior-actions.php
on line
639
Effective and efficient programming for children with Autism Spectrum Disorders (ASD) is something you hear over and
over again, especially if you are completing your graduate courses, a parent worrying about what is happening in your child's classroom, a clinician diagnosing a child with ASD, or if you are a therapist designing a treatment plan for a child with ASD. We all want to know that effective and efficient programming is in place, but how? For years, technology or computer assisted intervention has been used to improve the quality and efficiency of instruction for students with disabilities, however the use of technology for students with autism still receives very limited attention.
Various aspects of technology can be used for children with autism to improve independence, adaptive skills, academics, social skills, receptive and expressive language skills, communication, motivation, attention, and many other areas of need.  Chances are, you have heard of the term "assistive technology" (AT). However, there tends to often be confusion associated with AT in terms of what is actually considered assistive technology and who should be considered for assistive technology. First, let's define AT… According to the Technology-Related Assistance for Individuals with Disabilities Act of 1988 (Public Law 100-407), an assistive technology means any item, piece of equipment, or product system, whether acquired commercially, off-the-shelf, modified or customized, that is used to increase, maintain, or improve functional capabilities of individuals with disabilities. Now, let's consider who needs AT… When Congress reauthorized IDEA in 1997, they added the provision that ALL students on IEPs must now be considered for assistive technology. This means that an overwhelmingly huge number of 3+ million students were now eligible to be considered for AT. Unfortunately, this was another underfunded mandate and is often overlooked or ignored. Why is it ignored? People think it costs a lot of money, nobody knows how to use what is already available to them, it's too complicated, there are too many technical issues, or the teachers that did know how to use it have moved on and nobody else is interested or has the time for training.
Processing visual information or pairing visual information with auditory information, tends to be a much more effective strategy for children with autism. When we use AT with children with autism, we are providing the targeted information through their strongest processing area, therefore providing more efficient and effective programming. That said when working with students with ASD, various aspects of technology from "low" tech to "high" tech should be considered in every aspect of their educational programming.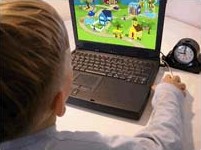 When deciding on what mode of AT you will use, it is important to determine which visual representation system is best understood by the student. You will also need to consider in what contexts the student needs to access information and make the most effective and efficient programming decisions based on functionality and portability of the assistive technology in those settings. Some examples of visual systems include objects, real life photographs, realistic drawings, line drawings, and text. Each of these examples can be used with assorted modes (low tech, high tech, etc.) of technology, as long as the student can readily comprehend the visual information. Some children may need different visual representation systems in different situations. The skills being taught and individual student tendencies and characteristics associated with ASD, will likely determine what systems and technology you end up using or finding particularly effective.
Examples:
One child may need to use 3D objects for his visual schedule because the actual objects seem to provide the added information needed to guide him from one activity to the next. However, another child may have the same daily schedule, but will need line drawings because 3D objects are too distracting and he tends to focus on inconsequential details in real life photos.
A student who only needs a sticky note reminder to stay on task for homework at home, may also need a timer that can be pre-programmed at intermittent intervals to stay on task in the classroom at school.
Assistive technology devices can be grouped into three categories: low-tech, mid-tech, and high-tech. When exploring AT solutions for a student with autism, the team should first consider whether low-tech solutions can meet the needs of the student. In addition to low-tech solutions being more cost effective, these solutions tend to be the least intrusive and are almost transparent providing better generalization, more functionality, and often times a better quality of life (i.e. avoiding possible embarrassment for the student).
Various modes of technology strategies, commonly associated with working with children with autism, are defined with examples below:
"Low" Technology ("Light Tech") – Visual support strategies that do not involve any electronic or battery operated device. Low tech solutions are typically low cost and easy to use and are often readily available in the classroom or home environment. Low tech strategies are often less complicated, usually smaller and lighter in weight and in size, and also simpler to make.
Examples: dry erase boards, reading frames, sticky notes, seat cushions, clipboards, manila file folders, photo albums, laminated pictures and/or symbols, highlighters, highlight tape, 3-ring binders, pencil grips, darker lines or raised lines on paper, color contrast paper, weighted pencils, graph paper, adaptive scissors, phone book for foot rest, etc.
"Mid" Technology – Battery operated devices or simple electronic devices requiring little training and advanced technology. Often they are fairly lightweight and quite portable, allowing the student to use them anywhere.
Examples: tape or digital recorders, electronic dictionaries or organizers, audio books, special lighting or acoustical treatments, amplification systems, adapted keyboards, audible word scanning devices, Language Master, overhead projectors, smartboards, timers, calculators, wrist watch timers, simple voice output devices (buttons, switches), etc.
"High" Technology – These are usually the more complex technological support strategies and also typically require more expensive equipment and more sophiscated training. When low and mid-tech solutions are not effective for the student, it may be necessary to consider high-tech options. However, remember that the most expensive solution may not be the best option for each student; each student requires individualized consideration and evaluation and what will work for one student may not work for the next student.
Examples: video camera systems, talking calculators, word processors, various software, scanners, reading pens, computers and adaptive hardware, complex voice output devices, alternative keyboards, mouse emulators, scanners, text-to-speech software, screen reading software, speech recognition software, augmentative communication devices, digital whiteboard devices, etc.
It's no surprise that research in neuroscience has demonstrated that we all process information differently from one another.  With three primary brain functions in regards to learning and processing information, you can imagine the vast differences in how each individual student in just one particular classroom will absorb information.  Universal design for learning means using instructional tools, materials, and methods that remove the barriers to learning and thus, making it possible for all students to succeed. A universally-designed curriculum offers multiple means of representation (give learners various ways of acquiring information and knowledge), multiple means of expression (provide alternatives for learners to demonstrate what they know), and multiple means of engagement (tapping into interests, motivation, interests, etc.).  Technology can reduce the amount of effort required to implement the components of UDL  in the classroom, enabling educators to create lesson plans and transform curriculum in efficient and flexible ways to meet the various needs of all students.
Posted in General Thoughts | 6 Comments »